Like the most of cat-keepers I've just wanted to have a cat. "The question like What breed to choose?" haven't have never appeared in my mind." I've always known "that" if I have a cat it'll be a british cat. Nobody could surmise that my little passion would develop into" a serious hobby. Everything started with our 1st show. My brown-tabby cat Beatriche Silver Toy got her first title - Best Opposite Sex". And than… Different shows, promotion our first kittens… But people always want smth fresh and unusual.
So, in autumn of 2004 Ibrahim vom Grutholz came to our house. This smoky red and white Selkirk-rex supplemented the list of "our" breeds and variety of "@our" colours. Now our nursery "Brilliant Spark" devotes itself to breeding of british shorthaired cats and Selkirk-rexes, trying to improve and stabilize the type of silver and multicolor kittens.
In fact we have our small achievements. Our grown-up children Jerald Silver Toy and Juliet Silver Toy got the titles of World Champions. In spite of show achievements all kittens subdued their owners by mild character, intelligent manners and blameless teddy appearance.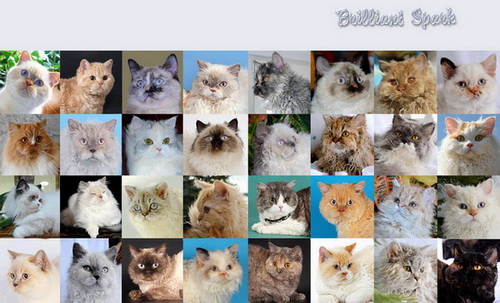 Contact info:
Phone.mob. +7 927-267-09-62
skype: el_nikonova
e-mail: niko-nova@mail.ru